Sports Dentistry
SPORTS DENTISTRY - MOUTH GUARD TRIPLE

Sports dentistry is a requisite of skills for treatment, prevention, education and research in which dentistry and sports come together. Custom made athletic mouth guards are designed to present additional health-care opportunities and to reduce the prevalence and severity of dental injuries

MOUTHGUARD
The American Dental Association projects that one-third of all dental injuries are sports related. The use of a mouth guard can prevent more than 200,000 oral injuries to the mouth each year. The National Youth Sports Foundation, however, estimates that more than 5 million teeth are lost by sports activities every year in the United States.
A mouth guard is a soft plastic or laminate device used in sports to prevent oral injuries to the teeth, mouth, cheeks, tongue and jaw, intra-oral and peri-oral soft tissues, concussions and neck.
An original Mouth-guard triple sports mouth-guard fabricated in Adarsh Dental clinic is always laminated, available in many colours (single/ freestyle/ triple colour) and upon request, "name of the athlete is printed on it".
An impression of your upper and lower jaw will be recorded by your dentist to fabricate a custom made mouthguard. The control of fit and handing over of the mouth-guard will be done by the dentist at the dental clinic. Every Mouth-guard is fabricated for you by a trained person according to the Mouth-guard guidelines.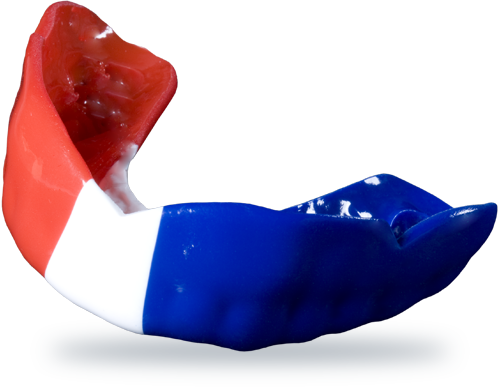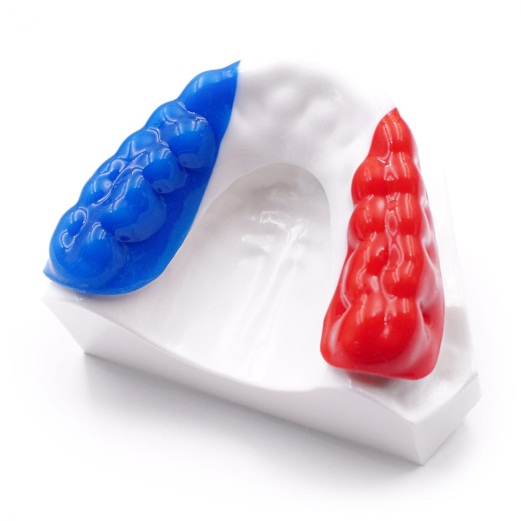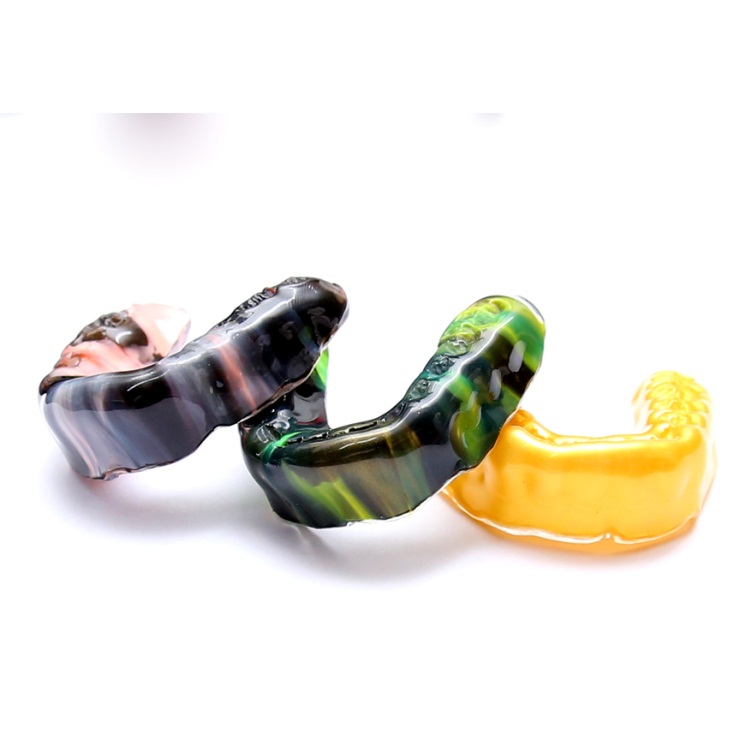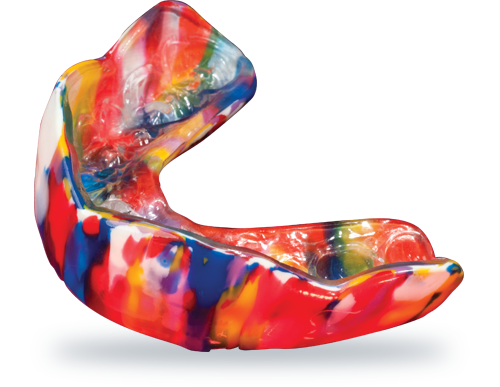 WHY MOUTHGUARD TRIPLE?
Boil & Bite mouth-guards fit poorly and become loose. this prevents an athlete from producing outstanding performances. Scientific studies show that a Boil & Bite mouth-guard provides a false sense of protection due to the dramatic decrease in thickness when the athlete bites it into place during its softened state. However, Mouthguard is superior & more advantageous in many ways.

Advantages of Mouth-guard triple
Mouth-guard triple is suited for all sports, as it is protective, comfortable, resilient, tear-resistant, odourless, tasteless, inexpensive.
Highest protection with the smallest extent.
Mouthguards fabricated by Adarsh Dental clinic are based on clinical studies performed assessing comfort to Speak, Breathe, and Drink and athletes can wear this mouthguard comfortably for extended periods of time without the need to constantly take it in and out of their mouths in between "plays" or short periods of time. Because of this feature, wearing the Triple Action Comfort Mouthguard has the potential to maintain hygiene by minimizing constant bacterial contamination from dirt.
They can provide a psychological benefit for an athlete. As an athlete might feel more confident and aggressive when they know they have proper mouth protection.
The most significant benefit that a mouthguard can provide is protection against damage to teeth and dental work. When a blow is delivered to the mouth the forces of impact are absorbed by the structures the blow lands upon. In the case of hard oral tissues such as teeth, a forceful impact can easily cause tooth fracture, result in tooth dislodgement, or damage existing dental work (dental crowns, bridges, porcelain veneers, dental implants)
Mouthguards serve as a shock absorber to prevent concussions and brain injuries. With the proper thickness of 3 to 5mm between the teeth, mouthguards reduce the rate of concussion by preventing the condyle (lower jaw hinge) from being forced into the base of the brain (temporal bone) during an impact.
Besides protecting against concussions and brain injuries, mouthguards also protect against neck injuries. Lastly, mouthguards protect the teeth by distributing the force of a blow over all of the teeth ultimately diminishing contact between the mandible (lower jaw) and the maxilla (upper jaw).
Estimates show that over a lifetime, dental costs associated with a tooth that is knocked out and not replanted can be as much as 50 times the cost of a custom thermoformed mouthguard.
Play safe triple mouthguard is a three-layered sports mouthguard, soft on inside and outside, hard in between. The hard inter layer extends over the whole protection. Play safe triple is produced less voluminous with the same protective effect.
DO's and DON'TS
TO DO:
Rinse your mouthguard thoroughly with water before and after each use.
Clean your mouthguard by washing it with warm soapy water. It is also recommended every couple of months to soak your mouthguard in an antibacterial mouthwash or denture cleaning solution.
Store your custom mouthguard when not in use and keep in a cool place.
It is recommended that kids up to the age of 18 replace their mouthguard every year due to growth and tooth movement. If adults take good care and maintenance of their custom mouthguard, it can last for a long time.
Replace your mouthguard if it gets damaged.
TO NOT DO:
Do not use hot water nor toothpaste to clean
Do not store your mouthguard near heat or in the sun!
Do not chew your mouthguard or apply undue amounts of pressure on it.
Do not attempt to adjust your mouthguard if it becomes loose or too tight. Contact us and we will sort it out straight away!
We at Adarsh Dental Clinic, provide you with best and comforting custom-made mouthguard using technical advancements and updated guidelines to help protect you from dental injuries in Aggressive sports with the help of our skillfull professional team of doctors. To book an appointment with us, call now at +91-44-24612461.