Invisalign or Clear aligners
Invisalign / Invisible Aligners / Clear aligners
Are you preferring a simple, hassle-free, most effective and a safest alternative way to align your crooked tooth with remove able appliances rather than using fixed traditional metal/wires braces?
Are you scared of awful appearance of jailing you teeth behind traditional metal/wire braces?
Are you afraid of pain and ulcer associated with regular Braces?
Are you a busy person or tired of following up with frequent multiple dental visits?
If so, INVISALIGN or CLEAR ALIGNER will the smartest and safest choice which only can suit up your needs.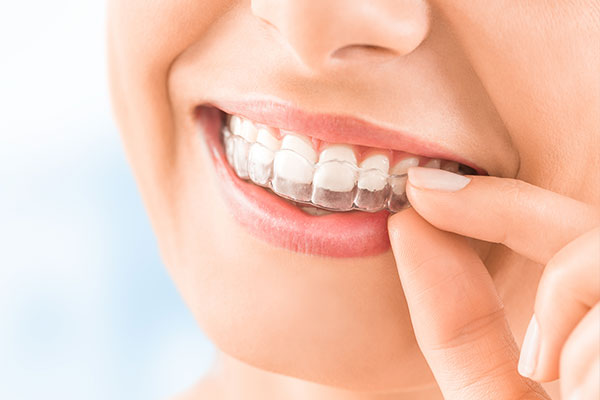 Invisalign is an invisible method of straightening your teeth. In this method, you will be fitted with removable, transparent aligners, specifically crafted to fit your teeth. This belongs to the branch of cosmetic dental technology. This is a custom made aligner, which is interchanged roughly every two weeks , generally for a period of six to eighteen months or sometimes even longer. This time period depends upon the severity of misalignment. Identical to a dental retainer, an Invisalign is used for orthodontic treatment. It is being used as a technique to move and properly align teeth for a beautiful smile. This clear aligner is usually digitally generated from a mold of the patient's teeth, which can be either taken by a Dentist or an orthodontist. This will be fitted uniquely suiting specific patient requirements.
Diagnosis:
Invisalign is an Orthodontic Treatment which can helpful for the cases of malocclusion, or the misalignment of an individual's bite or improper spacing between their teeth. This is suited for treating simple to complex dental problems. Some of the conditions which an Invisalign helps include:
Gapped Teeth
Overbite
Under-bite
Open bite
Overcrowding:
Book appointmentCross-bite:
Invisalign Treatment:
The treatment procedure is simple and comfortable. After the initial consultation a 3D digital image of your teeth will be produced. Based on this image, a set of custom aligners, specifically made for you, is then produced. This will help to have a digital estimate of the treatment. i.e., a computerized plan of how your teeth will look after the treatment. Then you may have to wear each aligner, roughly for about two weeks. One aligner has to be worn for two weeks before moving to the next one in the series. Generally, treatment can take 9-18 months and follow up visit to the practitioner is required every 4-6 weeks. Duration of treatment is case specific. it usually requires 18 to 36 aligners to get the final result.
Some of the benefits of this treatment are:
Straightening of your teeth with the support of invisible aligners
These aligners are removable. Hence this will not be a hindrance for eating, brushing and flossing your teeth and will not obstruct the patient to maintain oral hygiene.
Since there is no metal brackets or wires in mouth, there will be less irritation. So there is no need of repeated adjustments or visits to dentist.
They will allow you to have a preview of your straightened teeth, even before the treatment process.
We at Adarsh Dental Clinic, provide you the best treatment available for patients with malocclusion, misalignment or biting irregularities. We are updated with all the latest and modern treatment alternatives available. Our team of specialized doctor's will be at your service and suggest you the best treatment pattern. Book Appointment now