Braces (stainless steel, ceramic , Lingual & Invisible)
Braces are one of the most popular and widely used treatments in Orthodontics. It is very common these days to wear braces. The goal is to straighten the teeth by correcting teeth that are crooked or crowded. In some people, even though the teeth are straight, the alignment of upper and lower jaws may be uneven. To correct these problems, braces are usually recommended by dentists in such patients.
Dentists carry out various tests and examinations to get a proper diagnosis. Once the diagnosis is made, the next step is to decide on what type of braces one should wear. Braces can be fixed or removable. The type of braces required for each patient is solely based on individual patient needs.
Below are a few types of braces that are widely used:
1. Stainless steel braces: These are the commonly used type of braces. They are inexpensive and traditional. Thin wires in these braces hold them tight and fixed in place. The rubber bands attached to the braces put pressure so that the movement is restricted to the right position of teeth. It can be irritating and painful in the initial phase of treatment. Special precautions need to be taken while wearing these braces such as avoiding types of food that may be sticky or hard in nature. The use of the orthodontic toothbrush is highly recommended for patients who chose stainless steel braces to keep the teeth clean.


2. Ceramic braces: They are similar to stainless steel braces in terms of size and shape. But it stands out due to the exception that these are tooth-coloured braces or can blend in more with the texture of your teeth due to its clear brackets. However, they are expensive and more sensitive. This increases the risk of damage of these braces and one needs to be cautious. In addition, it is a time-consuming process to get it fixed and maintained.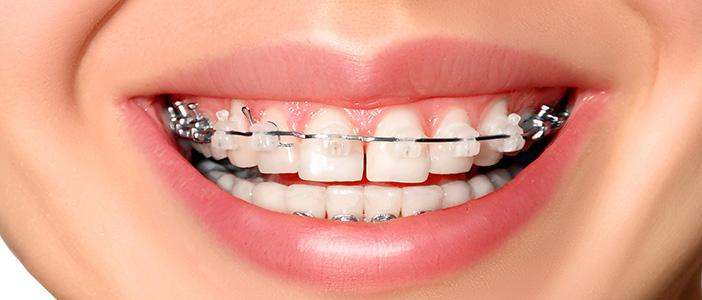 3. Lingual braces: They are similar to stainless steel braces, but the difference is that the brackets and wires are placed inside of your teeth. Hence, it remains invisible. But it requires a highly skilled and professional dentist to fix them in place. It is not recommended in people with small teeth that get in the way of tongue leading to speaking difficulties. It is important to learn to use lingual braces to avoid injuries.
4. Invisible braces: As the name indicates, they are practically invisible. This type of brace is expensive and are only recommended for patients with minimal tooth alignment problems. Invisible braces are removable and hence, can be taken off while eating and brushing. The entire process of fixing invisible braces is different from other procedures. Dentists use a different type of aligners every two weeks for the gradual movement of teeth to the desired place. You may feel uncomfortable initially and for proper results, a disciplined use is required such as one may need to wear these braces for at least 20 hours a day.
As mentioned earlier, the type of braces is chosen purely based on individual patient requirements. In some people, few teeth need to be removed for fixing braces whereas, in some, the patient may need to undergo surgical procedures to correct the shape of the jaw. Your dentist will suggest you the best opinion considering your case.
At Adarsh Dental Clinic, we provide the best treatment options available for patients. We are updated with all the latest and modern treatment alternatives available. Our team of Teeth Braces specialist i.e. Orthodontist and other doctors will be at your service and suggest you the best treatment pattern. Book Appointment Now